Custom Foot Orthotics in St. Charles, IL at Total Body Health Center
Foot Pain
There are 26 bones in the foot and each one is capable of causing foot pain. Millions of Americans each year complain of having pain in their feet or ankles. You feet are the foundation of your entire body and have a direct impact all the way through the spine. Stabilizing the your postural foundation will not only help relieve pain and stress in your feet but can also aide in pain felt in the lower back and spine.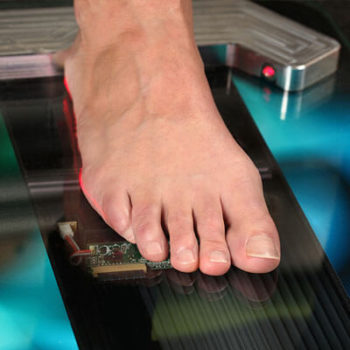 Common types of foot pain are:
Heel Pain: If pain is located in your heel then you may have a condition called plantar fasciitis. Plantar fasciitis is an inflammation of the band of tissue (fascia) that reaches from the heel to the toes and supports the muscles and arch of the foot. Proper orthotics can help to alleviate and possibly eliminate this pain.
Ball of Foot Pain: Ill fitting shoes are often the cause of this type of pain. Strenuous activity can also be the cause as a result of unusual stress caused by running or jumping to name an example.
Arch Pain: Plantar fasciitis is also the most common cause of this type of pain, it effects the heel, arch or both. It is important to see Dr. Mani right away if you are feeling this type of pain for an extended period of time.
Toe Pain: Although not always the case, gout (a form of arthritis) can cause pain in the toes. Avoiding specific types of food as guided by Dr. Mani along with rest and ice can help to alleviate the symptoms of gout.
Custom Foot Orthotics at Total Body Health Center
We welcome new patients to Total Body Health Center for postural exams to determine their chiropractic needs. If you've never had your feet scanned, you probably don't know what they are supposed to look like. This new technology provides insight into hidden structural imbalances that may not be apparent to standard evaluations.
Once you have been scanned, Dr. Mani can discuss options to order your pair of customized orthotics. These orthotics are far superior to anything you would find at a general store and can help to alleviate foot, ankle and back pain effectively.
Thank you Seema & Arun! I never would have gotten through my marathon without you! Sciatica was fine during & after! You two work miracles! I've been to several practitioners & have never had this level of relief & health. I can't thank you enough for getting me through my 1st marathon, never thought it was possible before. THANK YOU!!!!
In 9 weeks I've lost 27 inches!! With the "Ideal Protein" weight loss program. Dr. Seema has been the most amazing coach. If you are looking for a new lifestyle and some weight loss ask Dr. Seema how!!!! Couldn't thank Total Body Health enough for offering this awesome program!!!
Amazing is the only word I can use to describe how much better I'm feeling after i injured my back at home lifting incorrectly. Dr. Mani evaluated, heated and treated my back I and felt back to normal or better in just 30 minutes!!!
Dr. Mani and Dr. Seema are unbelievably knowledgeable, hospitable, and overall wonderful people. Their business is leading their clients toward a healthy lifestyle with the ability to consider, diagnose, and treat from a variety of different angles: chiropractic, acupuncture, nutrition, massage, and physical therapy, to name just a few. I can not offer a higher recommendation to Dr. Mani and Dr. Seema – they are outstanding people with a passion for helping others live healthier lifestyles that is unlike anything I've ever experienced in the health field – ever!
They're an amazing team! My entire family is in good hands with total body health!
I've been a patient of Dr. Arun and Dr. Seema for many years. I recommend them to all my friends and relatives.
They have changed my wrong thinking about health into right thinking. Such a blessing
We can't even tell everyone how special Dr Mani is . We have been patients of his for at least 10 yrs an there isn't anyone better then he is !!!! He feels like a long time friend. If you ever were contemplating seeing a chiropractor, you will never find anyone better then him !!!
Dr. Seema is the most amazing person and doctor. She is so passionate about finding solutions for all health problems. I specifically began visiting her for laser hair removal because I've suffered from folliculitis which was creating scarring on my legs. Not only has she continued to follow my progress, but she is always thinking and investigating more options that could help me. The treatments were amazingly affordable and successful. Their office offers everything for well-being (yoga, diet, acupuncture, massage, chiropractic, aesthetic, etc.) , and the doctors are approachable, available, and trustworthy. I would visit Dr. Seema for most any issue before heading elsewhere now after really getting to know her integrity and intelligence.
Awesome clinic and people! High quality care. Definitely recommend!
Schedule Your Appointment with Total Body Health Center
Call (630) 587-5824 or Click Below to Request an Appointment Online: