Massage Therapy in St. Charles IL at Total Body Health
Massage Therapy: Massage therapy offers many health benefits and can help everyone. While massage provides well needed relaxation, it is also very therapeutic to reduce pain and inflammation in the muscles and ligaments and aids in the recovery from injury and workouts. Regular massage can benefit the body in a myriad of ways and the licensed massage therapists at Total Body Health Center want to help you!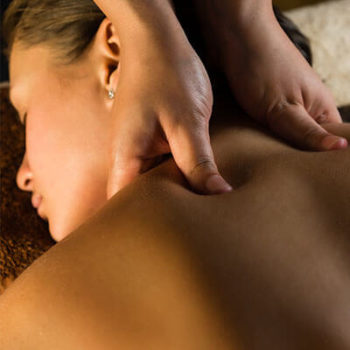 Relax and Heal with Our Licensed Massage Therapist
Most people think of massage as a luxury treatment at a spa, but it is an important part of treatment to those with injuries or muscle conditions. Receiving massages in conjunction with other treatments help magnify the healing benefits. Relaxed muscles allow the spine to stay in place and promotes circulation for healing.
Massage therapy in helps with:
Postural distortions and misalignments
Reduces stress
Improves sleep
Helps depression and anxiety
Bolster the immune system
Support the body's natural healing process
Increases circulation
Utilizing massage therapy in conjunction with chiropractic care can help you achieve optimal results. You will feel better and more relaxed because of our unique integrative approach. Additionally, massage therapy combined with chiropractic care will help to increase the speed of recovery from injury.
Meet Aaron Witz, our Licensed Massage Therapist
Aaron Witz has been a practicing licensed massage therapist since graduating from the William Rainey Harper College massage therapy program in 2012. While working in the physical medicine field, Aaron became certified in movement based manual interventions, such as the use of IASTM tools, Functional Movement Taping, and Cupping Techniques. Aaron's passion for assessment has led him to focus on analyzing the reason for dysfunction instead of merely treating symptoms. A runner himself, Aaron supports the athletic community by providing treatment at several major athletic events such Ragnar Relay – Great Midwest, the Bank of America Chicago Marathon, and the Crossfit Games in Madison WI.
Always striving to improve and promote the field of massage therapy, Aaron is a massage therapy educator, as well as an active and vocal member of the Illinois chapter of the American Massage Therapy Association.
In 9 weeks I've lost 27 inches!! With the "Ideal Protein" weight loss program. Dr. Seema has been the most amazing coach. If you are looking for a new lifestyle and some weight loss ask Dr. Seema how!!!! Couldn't thank Total Body Health enough for offering this awesome program!!!
Amazing is the only word I can use to describe how much better I'm feeling after i injured my back at home lifting incorrectly. Dr. Mani evaluated, heated and treated my back I and felt back to normal or better in just 30 minutes!!!
Dr. Mani and Dr. Seema are unbelievably knowledgeable, hospitable, and overall wonderful people. Their business is leading their clients toward a healthy lifestyle with the ability to consider, diagnose, and treat from a variety of different angles: chiropractic, acupuncture, nutrition, massage, and physical therapy, to name just a few. I can not offer a higher recommendation to Dr. Mani and Dr. Seema – they are outstanding people with a passion for helping others live healthier lifestyles that is unlike anything I've ever experienced in the health field – ever!
They're an amazing team! My entire family is in good hands with total body health!
I've been a patient of Dr. Arun and Dr. Seema for many years. I recommend them to all my friends and relatives.
They have changed my wrong thinking about health into right thinking. Such a blessing
Thank you Seema & Arun! I never would have gotten through my marathon without you! Sciatica was fine during & after! You two work miracles! I've been to several practitioners & have never had this level of relief & health. I can't thank you enough for getting me through my 1st marathon, never thought it was possible before. THANK YOU!!!!
We can't even tell everyone how special Dr Mani is . We have been patients of his for at least 10 yrs an there isn't anyone better then he is !!!! He feels like a long time friend. If you ever were contemplating seeing a chiropractor, you will never find anyone better then him !!!
Dr. Seema is the most amazing person and doctor. She is so passionate about finding solutions for all health problems. I specifically began visiting her for laser hair removal because I've suffered from folliculitis which was creating scarring on my legs. Not only has she continued to follow my progress, but she is always thinking and investigating more options that could help me. The treatments were amazingly affordable and successful. Their office offers everything for well-being (yoga, diet, acupuncture, massage, chiropractic, aesthetic, etc.) , and the doctors are approachable, available, and trustworthy. I would visit Dr. Seema for most any issue before heading elsewhere now after really getting to know her integrity and intelligence.
Awesome clinic and people! High quality care. Definitely recommend!
Schedule Your Appointment with Total Body Health Center
Call (630) 587-5824 or Click Below to Request an Appointment Online: